I'm excited to kick this month off with a BANG! The Dark Rising releases on the 12th, and I will be participating in the Menage-A-Blog July 18-22 with some FABULOUS sponsors! I love all these gals sponsoring me so, I thought it would be a blast to have some of them here to entertain you! Let's get started! Take it away Ashley!!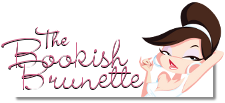 Hey everyone! I'm Ashley, otherwise known as The Bookish Brunette. I am totally excited to be here at Lacey's today, as I am one of the BIGGEST Vance fangirls EVER!! I'm here to tell you all what I absolutely have to have in a Book Boyfriend! (We all have them, and mine totally change weekly… sometimes book-ly!)
Top FIVE Traits I HAVE to Have in a Book Boyfriend…
1. Tall, Dark & Sexy- Need I say more? My Book Boyfriend HAS to be hot. I'm not opposed to light hair though… but I always think 'surfer' or 'pop star'.
2. Built- Now you may be wondering why this does not fall under the 'tall, dark & sexy' category… well you don't ALWAYS have to be ripped with muscle upon muscle to be sexy. I just prefer them that way- 'scrawny & emo' just don't do it for me!
3. Mysterious- I don't want the fictional love of my life (at the moment) revealing to me that he wet the bed until he was nine or something dude. I want him all quiet and mysterious! I want to dig for the details okay?
4. Emotionally scarred- Now this isn't a MUST… but of course it's super-hot when the guy needs a chick to help him through deep emotional turmoil of some sort…
5. Tough Guy- I like my guy to be able to handle himself! This is where the muscles come in handy!
Cowboys will trump just about any other 'type' of Book Boyfriend out there for me. Something about a southern boy just gets me all riled up! Cowboy hats, mud caked boots and a big truck… What's not to love?
Then the whole Bad Boy type… Epic WIN. Motorcycle

and a leather jacket will seal the deal every single time! Who drives motorcycle ladies??? I know right? Vance Magnum *sigh*.
Thanks so much for having me Lacey and I'm wicked excited to be a host for Menage-a-Blog!
Thanks Ashley for dropping by! It was FUN!
What YOUR favorite kind of book boyfriend??